Pee Wee, Midget, Pony
Babe Ruth
Legion
** See baseball page for detailed information on each league
Softball
Girls Softball
Fee: $20 ($30 if shirt is needed)


Red Team (Ages 7-10)

Black Team (Ages 11-15)

Evening practices and games

Contact Travis Anliker: (701)535-0030
Women's Softball
Women's softball teams sponsored by local and area businesses play in

Aberdeen City League. Contact Val Wagner: (701)375-6111
Men's Softball
The men's softball team will be sponsored by area businesses.
Game nights vary throughout the summer.
Ellendale parks host a soccer league for kids age 5 through 6th grade. The
league runs April-May. See the soccer page for more information.
The "Cage" and Steven Dobler Memorial Activity Court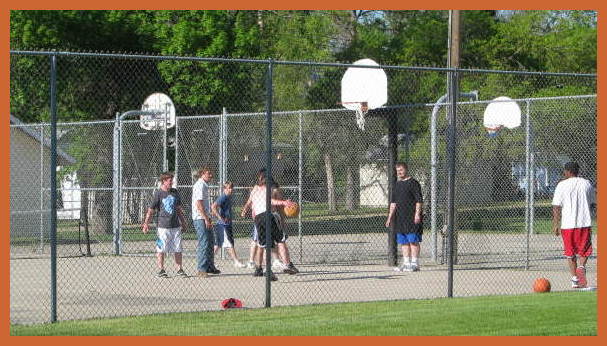 The "Cage" has long been a hot spot of activity in Ellendale. Located just across the street to the east of the swimming pool, the "Cage" has hosted countless numbers of Basketball, Tennis, and other games over the years. However, time has taken its toll on the facility. Backboards, rims, tennis Nets, lighting, and even the concrete surface are in need of some repairs which will cost thousands of dollars. With our annual finances already stretched to the limit, the Ellendale Park Board is asking for your help in giving a facelift to a venue that almost every youth that has ever lived in the City of Ellendale has used, as either a place to play sports, or just to meet up with friends for a night of fun.
If you were someone who had the opportunity to use the "Cage" as a kid and have fond memories, we would like you to consider donating toward the restoration project. We would greatly appreciate your help in keeping this a safe and healthy option for our community.
To donate, mail checks to:
Ellendale Park Board
PO Box 602
Ellendale, ND 58436
Please write "Cage Project" in the memo of the check.
The Ellendale Country Club is located 5 miles south of Ellendale on Hwy 281. It is a 9 hole par 36 grass green course with driving range. It has a full bar and restaurant. Men's night is Thursday. Ladies' night is Monday. USGA winter rules govern pay except local rules.
Membership Fees:(includes salestax)
Rates below begin May 16, 2018
| | |
| --- | --- |
| Family | $546.00 |
| Married Couple | $463.05 |
| Single | $352.80 |
| College Student (up to age 22) | $149.10 |
| HS Student (under age 18) | $82.95 |
| Single (over 25 miles) | $264.60 |
| Married Couple (over 25 miles) | $347.55 |
| Family (over 25 miles) | $409.50 |
Green Fees

| | |
| --- | --- |
| 9-holes | $15 |
| 18 holes | $25 |
| All Day | $25 |
Cart Rentals: $12/nine holes
Clubhouse rental: Call (701)349-4292 for party and event rental rates
We offer a par 29, 1603', 9 hole course. This course is located at Oster Park. Play with your own discs, or discs are available at City Hall. For more info call: (701)349-3252
Ellendale offers an outdoor grass court located in Oster park. It is open to the public but can be reserved by calling (701)349-3252